Is Amir Khan a PPV Superstar?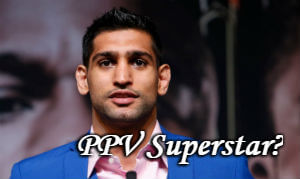 Amir Khan recently returned to the big leagues with a win against Samuel Vargas, which seems to be in line with the boxer's pre-hiatus aspirations of making it big in Pay-Per-View. PPV boxing fights have been going through the roof, with Floyd Mayweather Jr. being the king of the modern times with an average of around 4.5 million subscribers in his bouts against Manny Pacquiao and Conor McGregor.
Khan was inspired by the PPV ratings of the Mayweather-Pacquiao fight in 2015, which reeled in close to $500 Million, the biggest prize money for any such event. Khan had set up his fights to land a PPV slot himself, but the catastrophic loss against Saul 'Canelo' Alvarez in early 2016 led to a massive setback to his ambitions. Khan moved up two weight divisions into the Middleweight class, in order to present a more exciting and fun prospect in his PPV bid, but the disastrous knockout loss left him out of the ring for the best part of two years.
Khan is indeed an exciting prospect for PPV, as his fast hands and great style contributes to a fascinating watch for boxing fans. However, his recent form does not suggest that he has the same entertainment quotient as his peers and foes. The win against Vargas took the 'King' twelve rounds, after surviving a scare in the second round. Initially, Khan looked to have the upper hand by knocking down Vargas, but moments later, he tasted the floor as well, which have put a huge dent on any aspirations to win by a KO.
Up until the hiatus, Amir Khan was certainly on course to becoming a PPV superstar, but he needs to build up his image to regain the popularity that he once enjoyed. Fans would certainly love to see the superstar regaining his mojo and landing a substantial Pay-Per-View bout against his arch rivals, but there are several questions surrounding his fitness and the ability to hold on his own inside the ring. Khan is undoubtedly looking to land a big fight that makes financial sense, and it does seem that he is back on track to achieve his dreams.